Peter Menziuso, President, North America of Johnson & Johnson Vision Care, shares some of the values and practices that help create the strong J&J Vision culture. 
How many team members and employees are within the company, and how do you keep a sense of family in an organization of your size?
There are about 8,400 employees within Johnson & Johnson Vision (J&J Vision) around the world. As part of the Johnson & Johnson Family of Companies, we are fortunate to be connected to an even larger network of more than 125,000 employees worldwide. Maintaining a sense of family can be challenging for any organization this large, but we have a shared mission and vision that drive us, keep us connected and help us share in success. We also rely on communication to keep us connected when we may not be in the same place.
Employees within J&J Vision are active in more than a dozen employee resource groups that bring employees together to celebrate diversity. Each of these groups plans events throughout the year to spend time with each other, and to give back to our communities.
What is the culture like at your company? How do you ensure that people love coming to work every day? Do you have any tips that you could offer the eyecare providers of the world? What can they learn from your company that they can use in their own offices?
As a part of the Johnson & Johnson Family of Companies, our culture is rooted in our Credo, a guiding set of principles that drives how we work. Our Credo is first focused on serving the doctors, nurses, and patients who use our products, so we are always looking toward insights from patients and doctors to understand needs and deliver solutions for them.
When working with eyecare providers, we are eager to hear about what patients are asking for, or what they may need (and not know it!). We always want to make sure we're addressing needs of doctors and patients, and that we're moving as fast as the market needs us to, so learning from each other is critical.
We have a people-first culture that ensures employees are empowered to drive innovation in many ways, including products, processes, or how we partner with our customers. This helps keep people energized and excited to come to work. As a company, we have a strong commitment to the communities in which we operate, and our employees appreciate the opportunity to volunteer and engage where they work and live – we hear consistently how important this is for our teams. Employees are attracted to J&J Vision for a lot of reasons, from our focus on innovation to our commitment to growing and developing employees, and many employees stay within the Johnson & Johnson Family of Companies for most, or all, of their careers.
How do you reward your team for a job well done? How do you show your team you appreciate them?
Within Johnson & Johnson Vision, we are fortunate to have several reward and recognition programs for employees, ranging from simple kudos that any employee can offer to a coworker, to other financial awards for going above and beyond, and career advancement is aimed at providing diverse growth experiences. At a team level, we work hard to call out great performance – whether an objective outcome is achieved by a person or team, or if someone demonstrates behaviors that help drive a positive and collaborative environment.
For me, listening to our teams is so important to keeping people excited and engaged, so I spend a lot of time with people to hear them on issues that are important to our team and our business. I don't always have the answers they want to hear, and I'm comfortable telling teams that, but I think leaders have a role to listen and remove as many barriers as we can.
How do you organize communication mediums within your team (i.e. sales meetings, email, Slack, CRM software, phone calls, etc.)? What advice can you offer others to keep their eyecare team connected and communicating well?
We have in-person meetings when it makes sense for all involved, but because we have so many employees who work remotely – especially our sales force – we also rely heavily on digital technologies to keep us connected, through web-based meeting applications, videoconferencing, teleconferences, email and instant messaging. Our sales team also interacts with each other via a social portal for them to share questions, best practices and key learnings. Bringing that social media feel to an internal platform has been well received.
Keeping communication high is important for us, and is good for most teams, I think. We have found that we can't really communicate too much, so we are always looking for ways to leverage new digital and social technologies that can help us keep connected internally.
How do you ensure that your team is constantly achieving new goals? Is it done weekly, monthly, quarterly? Do you feel that goal setting motivates your team? Do you have any advice for eyecare providers on how to set and achieve their team goals?
As an organization, we set goals annually. Our goal-setting and performance review process is well-established at Johnson & Johnson companies; employees definitely have ownership of goals, performance, and development. Employees have managerial support, and there is a cadence for setting goals, updating, and refining them, and then analyzing performance each year. We think that having a certain set of shared goals is important, so that everyone is playing for the same thing, and has a shared sense of achievement and accountability. But, every employee has individual goals that help us get there, and many employees find a lot of personal motivation in setting ambitious, but attainable, goals for themselves, and making them happen.
For eyecare providers, looking to the past can help a team get behind an ambitious goal for the future – whether it's increasing patients in the practice year over year, expanding a practice's presence on social media to reach more prospective patients during key moments of the year, or another goal based on the practice's dynamics, there is always a goal that a staff can work together to achieve.
Does your team thrive more on freedom and independence or through management and structure? Every company is different, but what is most successful for your teams? Any advice on how to identify the best type of management and team structure for other companies and teams?
Within J&J Vision, we have a large, diverse organization working across geographies and business functions, and we are heavily matrixed, so many employees work directly for one manager, but also work indirectly with another – this is the nature of our organization, and it helps us share resources across our business, but it can get complex.
What I have found for my own team is that enrolling the organization in a shared set of goals and values, and then empowering them to deliver works well. When a team feels a strictly top-down approach, it can be demotivating. But when the team shares accountability, and knows that their leaders are here to be open to ideas and can help break down barriers, I'm often impressed at how teams drive themselves to be successful.
Overall, how do you inspire a positive culture and mission at your company? What is one thing healthcare practices of all sizes can do to follow your lead?
Our Credo guides us, and it is all about putting the patient, doctor, nurse, or anyone who uses our product first. We also are responsible for making sure our employees are fairly compensated and have a safe work environment, being accountable to the communities we work in, and delivering for our shareholders.
No matter what we are working on as a team, we are consistent in reminding each other that the work we do, our products, and our relationships with eyecare providers, mean we have the privilege of making a true difference in people's lives, and that is really powerful.
Johnson & Johnson Vision
Our Vision: We help people see better…connect better…and live better.
Our Mission: We bring the science and sense of sight to life through world-class innovation and patient experiences.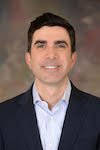 Peter Menziuso, President, North America, J&J Vision